2015.05.20 15:29:16 (*.67.130.221)
12746
Naju Morning Dew Church is a local church in countryside in Korea, and most of the members are secondary school students with sevral young adults and two adult members. Follows are pictures and a video prepared by Adventist Mission of General Conference, with a testimony shared by Shin SungHwa, telling the exerience of how the Lord has guided the church through the dedication of Pastor Shin's family. The church is one of the beneficiaries of the 13th Sabbath Offerings of the second quarter of 2015.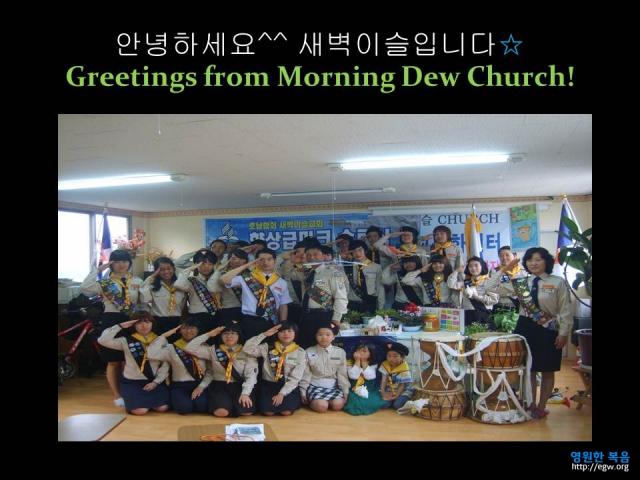 Good morning everyone. In the story you just watched, I am the second daughter, Shin SungHwa. Actually, It was not easy for me to stand here to share my story. It's not only because there are many prominent pastors here, but because I am passing the proper age of marriage, and often share my stories. Some people say that no young man wants to marry me because my family's faith and religious life are too serious or difficult. So I'm also worried about my situation. But, however I'm here. I hope that my family's story will be an encouragement for some people, and someone will give glory to God. Even though I will not be able to find any young man for 1 or 2 years to marry, but I hope that I will be able to go to heaven 1 or 2 years earlier.
Here I would like to introduce my heavenly father to you. Our family's background has several special factors.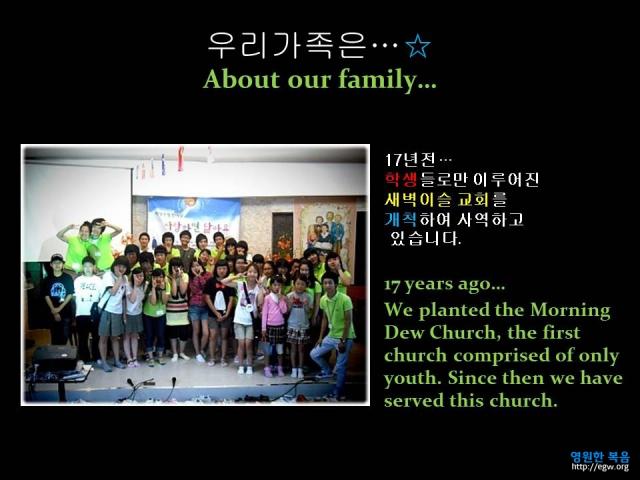 About 17 years ago, my family planted the Morning Dew church, the Adventist Church comprised of only youth.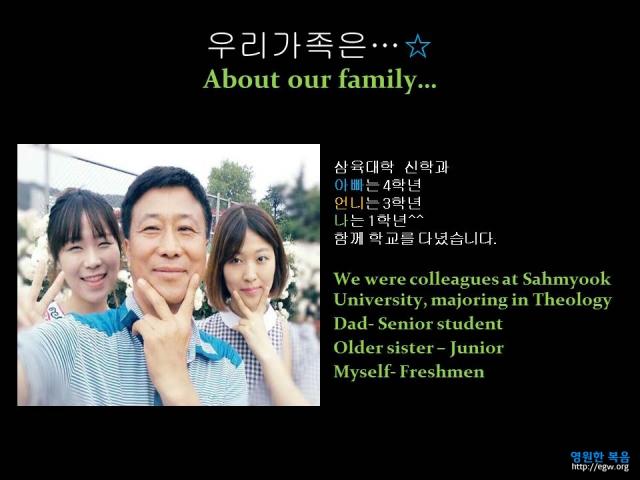 Another special fact about my family is my dad who wanted to give hope to the kids, at 45 years of age, challenged himself to take the university entrance exam. We ended up going to Sahmyook University majoring in theology; my dad a senior student, my sister junior, and me a freshman.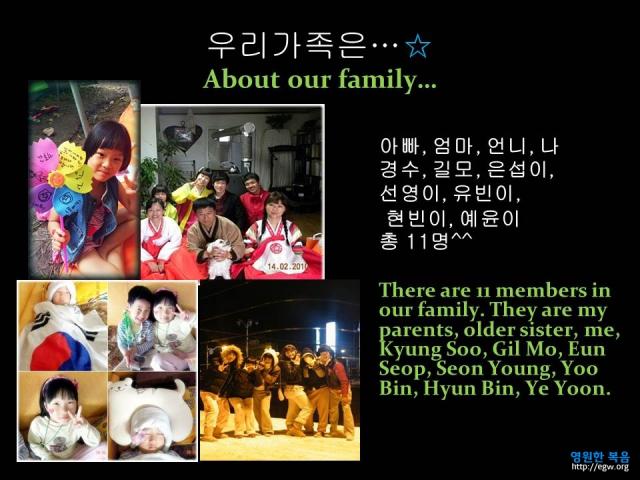 There are 11 members in our family. They are my parents, older sister, me, KyungSoo, GilMo, EunSeop, SeonYoung, YooBin, HyunBin, YeYoon. My parents, my older sister and I share the same blood, but the rest 8 of my family is the gift from God. (adopted)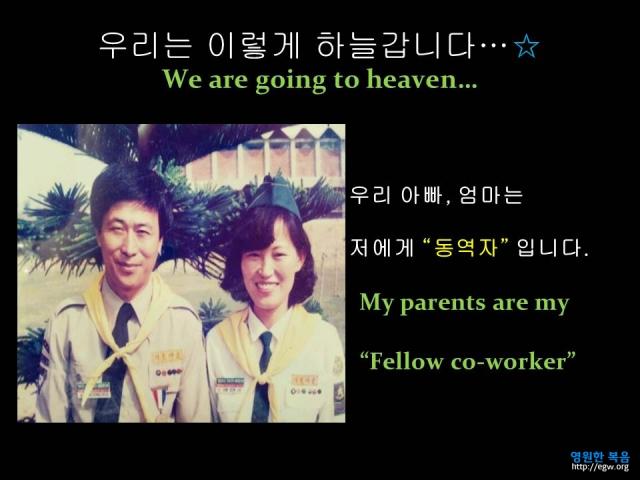 When someone asks, what are your parents to you? I would answer that they are my "Fellow co-worker". I am not sure how much I can share with you today within a limited hour, but I want to share a topic: "The Way We Go to Heaven", the story about how we work together as a fellow co-worker for God.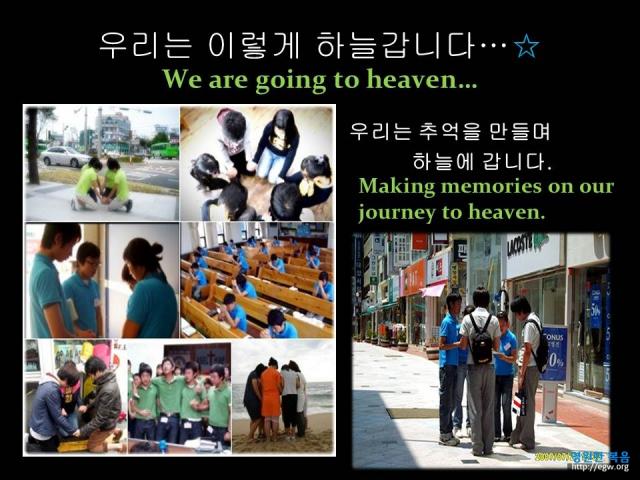 First, We go to heaven making memories with God. Since the 1998 Jeju Youth Evangelism Meeting, up to now we have attended 46 Youth Evangelistic meetings in Korea and 3 times to foreign countries.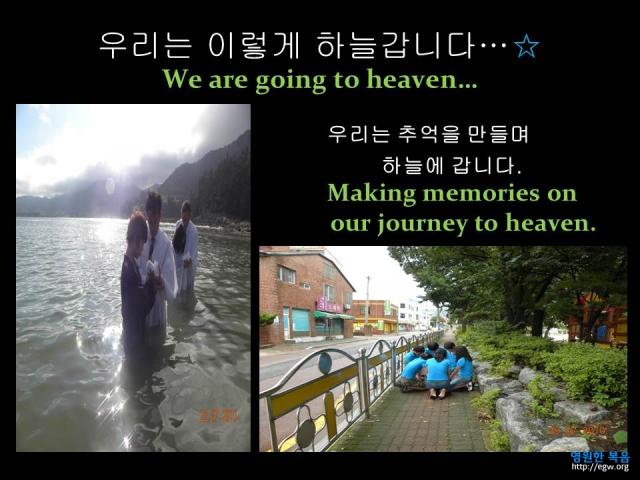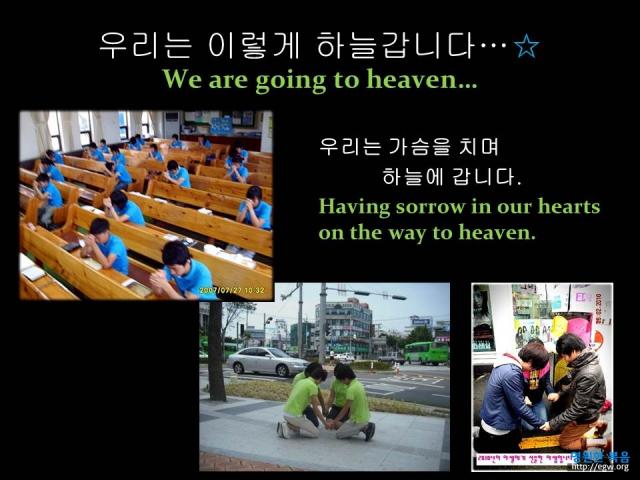 At each evangelistic meeting, we planned and did something special Praying in the street, Share gospel with friends in the street, something we would not normally do.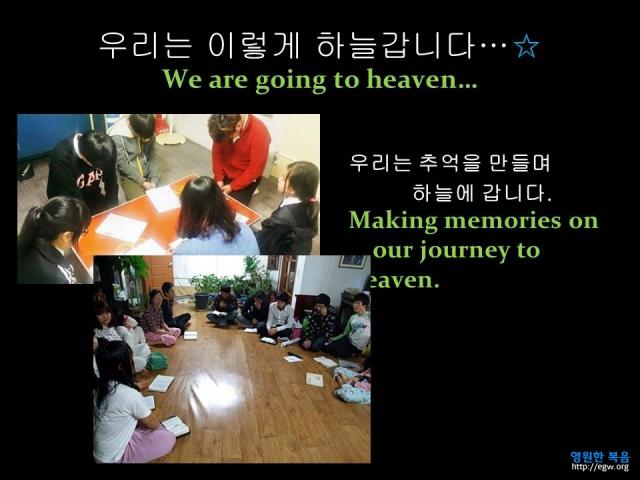 We would go on a Bible Study camp training trip. When there is any Bible quiz competition, we would study all night and win various national Bible competitions. There was even a student who entered the theology major as a result of winning the first prize in the Bible competition.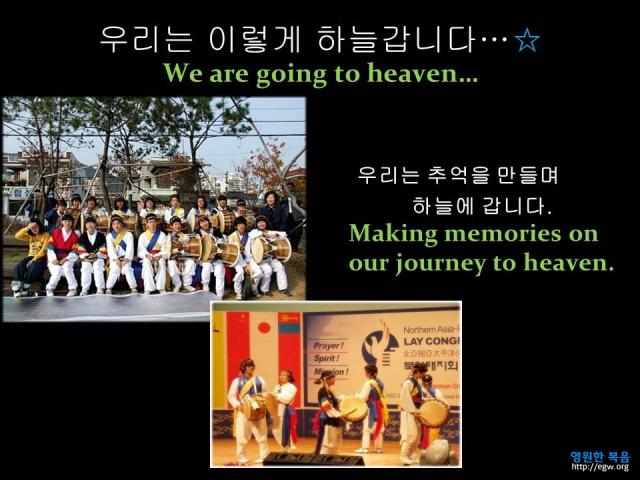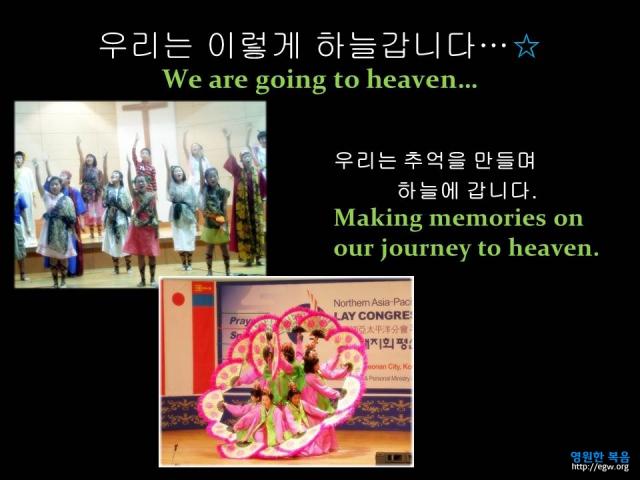 Also we do some cultural activities. Initially, it was to develop a program for student, but now we are going for public performances.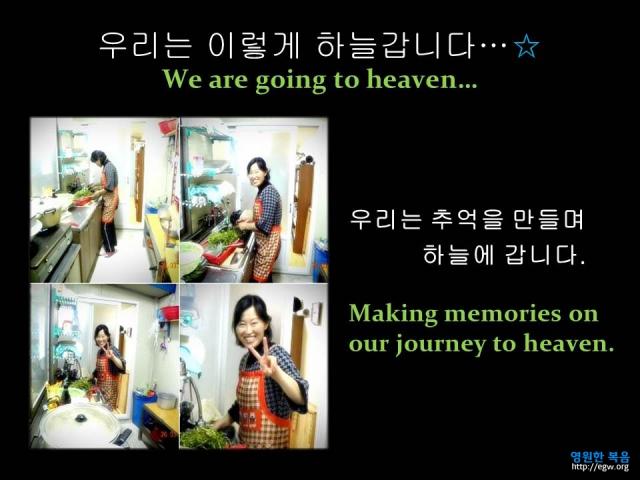 My mom's special hobby is cooking with angels. When students gather together, she usually cooked alone for them. She used to say she is never alone, because the angels are there to help her. But because of using her shoulder too much, she eventually had a surgery.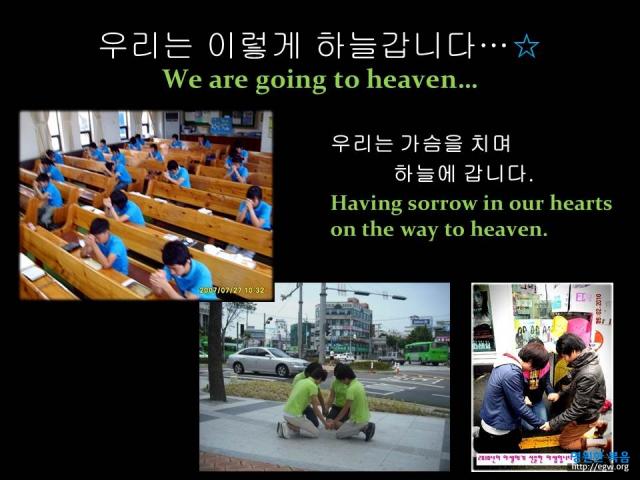 We had unexpected things happening such as sudden police break thinking that we are a suspicious group.
Some parents would suddenly come and interrupt and drag their kids out of the church, even pulling their hair.
We once had led one bully to a church evangelistic meeting and in result we had more than 100 students attending our church during the meeting.
The times when we did not have our church building, we used to worship under the street light at a park.
Having no money, we personally had to flatten the ground and apply cement on the wall to complete the church building.
There are so many memories with God, which I cannot mention them all.
I want to take all of these memories to heaven.
In spite having all different memories mentioned earlier, we will be pounding our hearts on the way to heaven.
The year 2014 for me was filled with despair and hopelessness. When doing the youth ministry, I would sometimes feel lost on my parents. I would feel heavy when seeing my parents with lowered heads visiting the police station for the bully kids. I felt bad for my mom providing clothes for the kids who were imprisoned. I felt pity for my parents since they had to care for the sick son who had been diagnosed with cancer. Moreover, I felt mad at the kids who would swear at my parents, who so lovingly cared for them.
However, I could somehow bear these typical happenings. Until last winter… Kids, who we always thought were our children, ran away from home. We tried to comfort our hearts
since we had MinHee with us.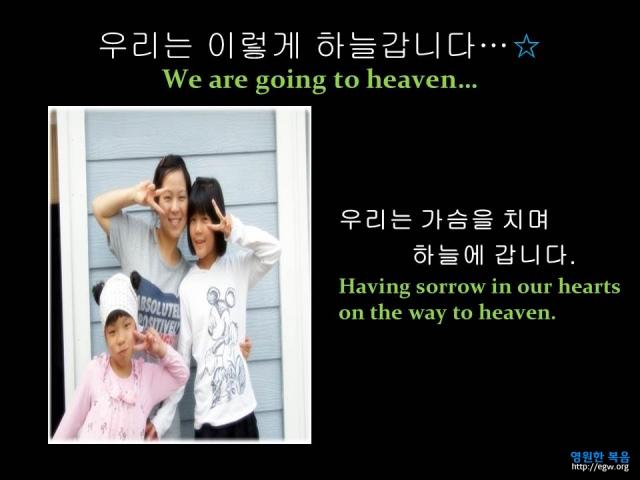 MinHee lived next door from our church and we have been caring and raising her since she was 3 years old. When the kids we had put our trust in had left, MinHee came to my parents. and said "Don't worry. I will do my best to fill their place". She started sharing God's Word to her friends. MinHee and her 4 friends soon became a key person of the church as settling in to attending church. It seemed like we had hope again. Until one day in December, 2013, the hope of our church, our beloved MinHee, a 14 year-old girl passed away in a car accident in her young age. It seemed that the hope was gone. However, this was just the beginning,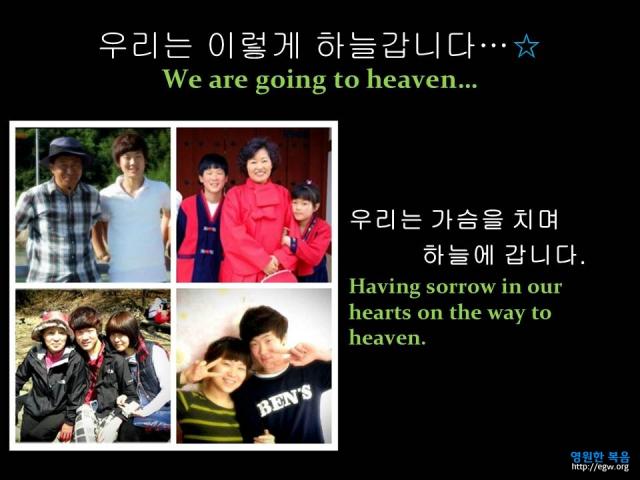 The first son in our family, EunSeop, was diagnosed with cancer and after almost a year of struggling against the disease. He died less than a month after MinHee had passed away. I could deal with my own heart breaking, but I could not bear it was when I came out of my room to drink water. And I accidentally overheard the sound of my parent's cry from their room. This was a real sound of despair. We all thought everyone was okay. But my mom sometimes fainted while walking on the road and whenever we prayed, my dad shed tears. I really could not get it. Why four of us can't just live happy together? Why are we going through these hardships saying this is God's work?
One day, I told my father.
"It is good enough, God will accept it, can't we just stop here?"
my dad replied.
"This is what God asked us to do, how can we quit?"
After my mom's surgery, I told her.
"Let's stop here"
But mom replies with smile on her face"We have done nothing" and she starts to sing.
"There are many cucumbers in the field, and God is the one who makes them grow."
It was so hard on me to hear my mom saying "The Lord gave and the Lord has taken away" But since all is not over and by trusting in the Lord who carry away things at the right time while in the best way, we move forward to heaven, pounding our hearts.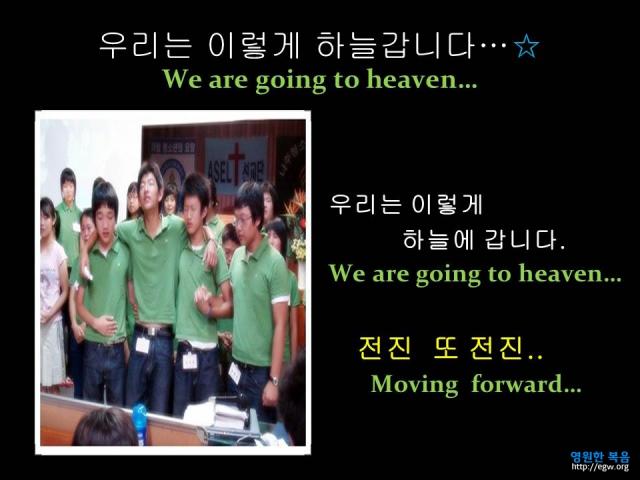 Last but not the least We go to heaven moving Forward. Continuing Forward!
When we were in the most difficult time, this sermon was shared by Pastor Lee JungWan, SWKC Youth Director, comforting us. Forward… keep on moving Forward. It felt really cruel.
Some kids leaving our church told us "We will not come here anymore since it looks like if we continue coming to this church everyone will either die or run away." It was just a mere kid's saying but it still was much hurting my heart. We are already so hurt and in despair. But what we are hearing from the pastor is to go forward, even so go forward. We did as we were told. We pulled ourselves together and like usual way we evangelized the kids, prayed and read the Bible all night long and stayed every Friday & Sabbath together as if going camping.
Small but little changes started to happen. The kids who used to just come and leave the church after sermon started to cry out "We will continually stay here as we are now". They said, they want to fill my parent's empty hearts, And came to my home having dinner with my parents. Likewise, we have been moving forward and we now have a new hope.
My beloved sister SeonYoung, who ran away from home about a year ago came back in December, 2014. She said "There was nothing much out there, now I truly know mom and dad's love." SeonYoung won the prize of the prodigal son at the end of the church year end ceremony. She has led other wandering friends of hers to God and is making plans for upcoming summer youth evangelism.
By the grace of God, we will be receiving the GC 13th Sabbath offering from June 2015 to be used for our church construction. The upcoming last Sabbath of June, please remember the Morning Dew church in a small town and offer your hearts, we will continually serve the Lord to pour out the early morning dew until the day of His second coming.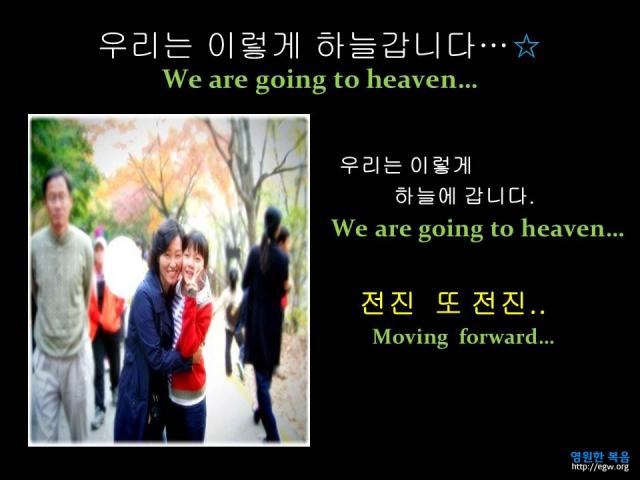 My beloved Adventist members! It is not too far. One of my favorite texts in the Bible, Hosea 6:3 (Easy Bible version)
"As surely as the sun rises, he will appear; he will come to us like the winter rains, like the spring rains that water the earth."
When Jesus comes like the rain, like the spring rain, I would like to go to heaven and meet my beloved brother and sister, EunSeop and MinHee, I will hold Jesus's hand who had suffered more than I tell him that "Jesus, we have come this far".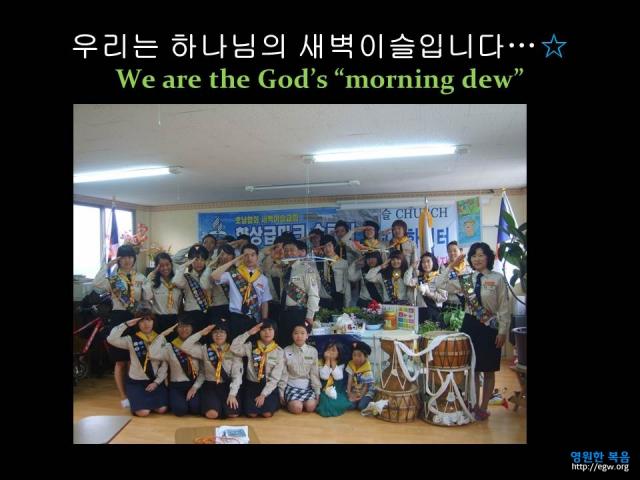 In heaven, I would love to hear your stories, the stories about your ministry with God. I believe you will all be ready for this, right? Let us meet again in Heaven. Thank you.
Following video was produced by the Office of Adventist Misison of the General Conference for the promotion of the 13th Sabbath Offering Projects for the second quarter of 2015.